Basement Apartment Fire in Trenton Demonstrates Importance of Egress Code
Posted on May 22, 2012 | in Thoughts | by Jeff
National building code requires all basement apartments to have a safe means of egress – but many are rented out without this vital safety feature. Doing so, however risks deadly consequences.
In Trenton, New Jersey, firefighters were recently called to a blaze in a busy residential neighborhood – in which two houses were engulfed in flames. Read about it at NJ.com.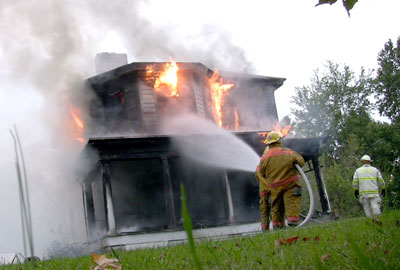 It's believed the fire began on the porch of one of the Franklin Street homes, caused by a cigarette butt or stick of smoldering incense left in the trash by the occupant of the basement apartment. The upstairs tenant awoke at about 2am to see bright, flickering light from her bedroom window – and the porch below engulfed in flames.
City firefighters arrived just minutes later, and the upstairs occupants of the two burning houses had already managed to escape – but somebody was missing. Nobody had seen the occupant of the basement apartment.
Because there were no egress windows built into the apartment, the only escape route was up through the house – which was by that time engulfed in flames.
Fire Department's Rescue 1 team members Steve Yarosz and Michael Brown were quick to act. Smashing open exterior windows, they used a thermal camera to locate the trapped resident. He was trapped in the basement, semiconscious from smoke inhalation.
Thanks to the training and bravery of fire officers Yarosz and Brown, the basement occupant was quickly dragged to safety – and was reported to be in a stable condition at the nearby St. Francis Medical Center.
Although this story has a happy ending, it could have easily had a very different outcome. Thanks to the training and quick thinking of Rescue 1, the basement occupant was rescued; but because there was no adequate means of egress from the basement, he could easily have been killed.
This story demonstrates that egress windows shouldn't be installed just to meet with national building code – they are an essential safety feature than can make the difference between life and death to residents of a basement apartment. All across the United States, homeowners continue to rent out illegal basement apartments that don't meet code – and stories like this one are sadly all too common.
If you are planning to finish your basement, or have a basement apartment, don't waste any time in researching the cost and specifications of getting a means of egress fitted. Lives could depend on it.