Bruno Holmes is a rare book collector, who remembers vividly why he is passionate about fire safety in his new basement library.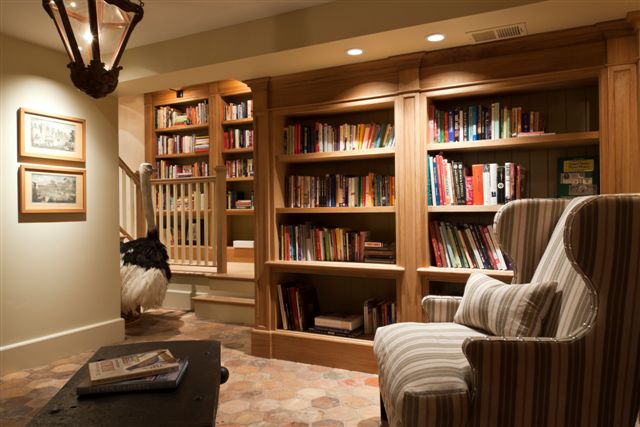 "Back when I was working in England," explains Bruno Holmes, a rare book dealer for a prestigious auction house in New York City, "I was caught in a fire once that nearly claimed my life."
Born and raised in the south coast of England, Bruno's first foray into collector's books was running a second hand bookshop in a basement-level store in greater London.
"It was an old Georgian building, accessible by steps in the front, and a little doorway out back. We were filled to the brim with bookshelves and thousands of old books – some rare and collectable, others ragged paperbacks we'd sell 3 for a pound."
On one summer evening, Bruno was tending the counter when disaster struck.
"One of the old electric fans we had shorted, and a spark set a box of old comics alight. The next thing we knew, the whole bookstore was going up in flames." Thousands of dry, old books acted like firelighters. "In just a few minutes, the front of the store was completely inaccessible."
Bruno tried to escape out back – but that's when the importance of a "means of egress" became apparent.
"I'd worked in the shop for years, and never even tried the back door before," he admits. "We had it open a couple of days in the summer at most, to get air flowing through the place, but generally it was closed and locked."
Like that fateful day.
"The door was locked, and somebody had piled bags of rubbish up against it. Basically, I was stuck."
With smoke filling the basement shop, and the beams above sagging and creaking, Bruno admits: "I thought I was dead."
Fortunately, London's Fire Brigade arrived and fire fighters with axes were able to hack open the back door and pull Bruno to safety – but he never forgot the experience.
"Ever since then, the first think I look for when I enter a basement is the way out."
Which is why, when he moved to Long Island with his American wife and kids, he was very particular about finishing the basement in his Babylon home.
"The basement was pre-finished when we moved in," Bruno explains, "but the previous owner had either avoid or ignored national building code and not put a basement window well in. That wasn't good enough for me. I wanted to keep my own library of books and collectables down there, but I wasn't going to do that unless there was some kind of egress."
Bruno spoke to a contractor and was able to install a basement window well and egress window fairly affordably.
"In fact," he argues, "it practically paid for itself. Our realtor agreed that adding a means of egress was a good investment, as it would have lowered the value of our home without one, and if we moved we might even have had to pay out to have one installed to meet the inspection requirements."
But to Bruno, the real value isn't measured in dollars.
"I learned the hard way how important this sort of escape route is," he admits. "Even if it wasn't part of national building code, or a smart investment, I'd have done it anyway."