Installing an Egress Window? We Take the Guesswork Out
Posted on April 9, 2013 | in Thoughts | by Jeff
If you're thinking of installing an egress window in your home, we can help you get everything you need with a single click.
Last Christmas, I bought a new iPhone, and a whole load of accessories that were on sale. And what did I discover when I got home? That none of the on-sale accessories worked with this season's latest iPhone.
It's a perennial problem – making sure the accessories and extras you buy fit the product you intend them for – and it extends far beyond just mobile phones. It even extends to home construction supplies (I can't be the only one who bought a window frame or door off the rack, only to discover it didn't fit the space by the time I'd brought it home.)
Knowing that having incompatible materials is a source of incredible frustration, we started selling complete egress window kits at egresswindows.com – specifically so people looking to install a means of egress in their finished basement wouldn't have to worry that the windows and grates they bought might not pair up with the window wells or accessories they ordered at the same time.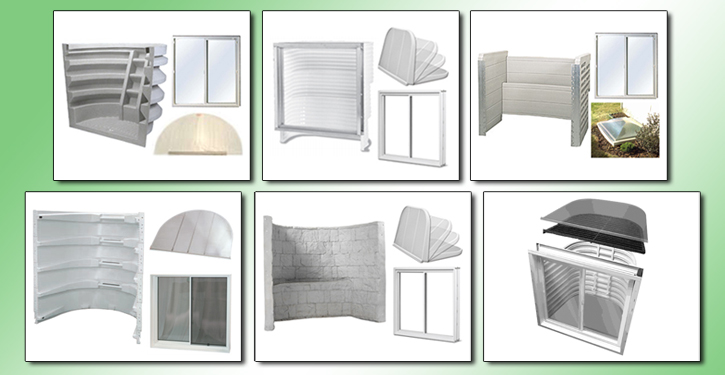 Each one of our complete egress window well kits includes all the essentials to install a means of egress – including a fiberglass or metal window well, an egress window, plus a cover (some kits also come with a ladder, if steps aren't molded directly into the window well.)
While you'll still need to purchase additional materials to install the window well, including crushed stone for backfilling, the important parts are all shipped together and all work in perfect harmony together; ensuring an affordable, effective means of egress that meets modern building code.
Why is this important? Because if you order the right parts, your "means of egress" could be a literal deathtrap instead! We've read at least one story of a contractor who installed a basement window well without checking whether the window fitted the space-saving window well. When it came time to test the window, the homeowners found it couldn't actually open outward, because the window well was too small!
That's not the kind of mistake you want to make; especially in a life-or-death situation in which a window well could make all the difference.
So check out our range of complete egress window kits – and, if you have any questions about which parts work with others, don't hesitate to reach out to one of our skilled and knowledgeable customer care representatives.