Basement Escape Window – Not Just for Fire
Posted on August 18, 2012 | in News | by Jeff
A means of egress is an essential in any basement apartment – both legally, and practically. But it's not only fire than makes installing a basement escape window an important idea; as one Pennsylvania woman recently discovered.
When Rosalyn Willis, 59, journeyed into the basement of her Berks county home, she had no idea that she wouldn't remerge for three whole days.
She was checking on a power outage in her Douglass Township home, likely caused by water than had flooded her basement. After clambering down the stairs, however, the rickety wooden steps collapsed behind her – trapping her downstairs.
Without a telephone, and with no access to food or water, Willis was to remain trapped downstairs for three full days. Finally, late on the evening of the third day, she was discovered by a friend who'd come to visit. She called the emergency services; who took four hours to remove her.
"If this had been a week earlier," said David Franke, Captain of the Douglass Township Police, "this lady may not have had the same outcome."
Willis was taken to the nearby Reading Hospital to be treated for dehydration.
This story highlights how vital a means of egress is in any basement. Although having a way to escape from a fire is the most common reason for installing egress windows, there are other circumstances that make them no less valuable – like Rosalyn Willis' example.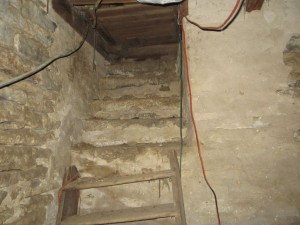 Her nightmare was caused by the steps to her basement collapsing; and whether due to termites or rot, that's something that could happen to anybody; even in a modern home. In fact, ask yourself this: If your basement stairs collapsed, could you get out?
So whether you use your basement yourself, or rent it out to somebody else, don't cut corners. Having only one way in or out of your basement isn't just a violation of building code.