Fiberglass Window Wells for a Tight Space
Posted on August 15, 2012 | in Products, Thoughts | by Jeff
When space is at a premium, our fiberglass window wells might be the answer.
Recently, we received a question from a homeowner in Baltimore; who was refurbishing their basement, but was facing trouble fitting a code-compliant basement window.
"I live in an old 1950s townhouse," wrote David Cearn, "and we don't have a yard, so much as an alleyway." When David asked a couple of contractors about installing a means of egress in his basement, he got the same reply from both of them: "There's not enough room."
That's because egress window wells are normally installed with crushed stone or pea stone backfill; which lightens the load on the window well, and helps with drainage. The problem was, David's tiny alley/garden didn't have enough room to install two or three yards of backfill. Fortunately, we were able to help.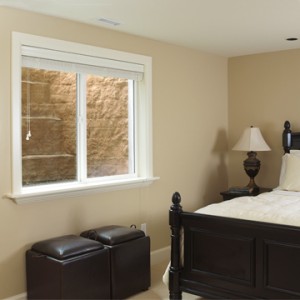 The Elite Window Well and Premier Window Well are both made out of tough and durable fiberglass composite – which is much stronger and more flexible than even corrugated steel window wells. This means that they can be backfilled with the same earth that was removed to dig the window well hole; and in David's case, meant he could fit his means of egress into his tiny side garden.
It wasn't all good news, though. After explaining the situation to his contractors, one of them took on the job – but because of the space limitations, was ultimately reduced to digging the hole for the window well the old fashioned way – with a shovel.
"It was a lot more work – and cost a lot more – than I'd anticipated," David admits, "but I wasn't going to compromise."
And it's a good job he didn't. In cities like Baltimore, where basement apartments in urban areas can be lucrative rental opportunities, the local authorities are still cracking down on illegal basement apartments. The cost of not adding basement windows into an apartment can ultimately be a lot more than the expense of installing them!
But ultimately, even the added expense came with a couple of benefits:
"Firstly, the window wells look great," David writes. "The fiberglass looks just like real stone, and they have steps built right in which makes them a great emergency exit. I know the steel window well might have been cheaper, but these look so much better."
And secondly?
"I rented out my basement pretty much immediately," he admits. "And it's only going to be a couple of months more before I've paid off the cost of refurbishing my basement."
More than that, his basement apartment has been registered and inspected by the local authorities: "And the guy who came to look at it told me I'd done a great job. Thanks, EgressWindows.com!"