Safety First – Egress Windows, Fire Extinguishers & More in Basement Apartments
Posted on May 20, 2014 | in Thoughts | by Jeff
Let's take a quick look at the basement safety essentials.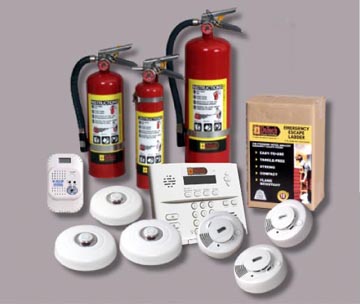 Renovating or refinishing a basement is a fantastic way to increase the livable space in your home, and increase your property values.
However, it's a project worth doing right – if your basement space isn't completed to match building code, it can actually hurt your home's value – and, even worse, pose a life-threatening risk to anybody occupying it.
Basement apartments are at the top of the list when it comes to basement projects that require attention to safety details. Features like kitchens and water-heaters pose the same risk of fire as they do in homes above ground; but with the added concern of requiring a safe and accessible means of exit.
That's why you should make sure to address the following when you're finishing a basement apartment space:
Do you have a fire alarm installed? Fire alarms save thousands of lives every year; and in a basement space they're especially important. Triggered by smoke, they can alert a family to the presence of fire before the smoke becomes overpowering; which is one of the leading causes of death or injury in basement fires. Make sure you have fire alarms installed in your basement space; and check them regularly to make sure they're working properly.
Are there fire extinguishers at hand? In the event of a fire, it's often possible to contain the blaze before it gets out of hand. In order to do that, though, you'll need a fire extinguisher; and that's something many home owners forget. Fire extinguishers come in a variety of different types. The most appropriate for use in a basement apartment are multi-purpose extinguishers that have a Class B and Class C rating. These can be used safely on grease and oil fires, and on electric fires. Check them periodically to make sure they're ready for use, and always replace a fire extinguisher if you have to use it.
Is there a means of egress? A 'means of egress' is the technical term for a fire exit – a means of getting out of a basement without relying on stairs. According to building code, all residential basements are required to have a means of egress installed. The only problem? That doesn't necessarily mean they do!  Installing a basement window that can be used as a means of egress is an essential safety feature for any finished basement. It doesn't just ensure the basement meet building code – it can also make the difference between life and death in the event of an emergency.
Sadly, too many people only consider safety features like these when it's too late – when they actually need them. Make sure you're not one of them. Check out the egress window options we have available on this site, and do some further research on fire alarms and fire extinguishers soon.